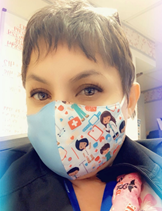 Olga I Marrero DNP, RN-BC, IBCLC Chicago Chapter Chair
AWHONN member for 10 yrs
Biography: I have been a Perinatal nurse for over 20 years. I currently hold an Advance Practice Nursing licensure, attained with a Perinatal Nurse Certification and International Board-Certified Lactation Consultant certification. My experience and education have provided me with the knowledge and skills to care for the Perinatal family and enhance nursing skills and knowledge. During my carrier I have been a faculty for community college, a university faculty and a member of the professional development team leader. Currently, I work with the leadership team to bring evidence-based information to healthcare providers. I have been an active member of AWHONN and have enjoyed many conferences.  
Why did you join AWHONN? I joined AWHONN in order to identify the standard of care for the population I have been committed to for many years and the resources are great, love it, It is totally worth the investment.
What is something unique about you?   I like to M&M characters. They are colorful and remind me of the community we serve, full of unique individuals. 
What is your favorite AWHONN Resource? I really enjoy the online learning center and the AWHONN statements to help change practice and implement evidence-based care.