Welcome to the AWHONN Illinois Section
Welcome to the AWHONN Illinois Section website!  Our mission is to empower and support nurses caring for women, newborns, and their families through research, education and advocacy.  We are 747 strong. If you are interested in joining our community and becoming more active at the local level, email us at ILAWHONNSectionChair@gmail.com for more information or explore our new website!
---
Masks on Mom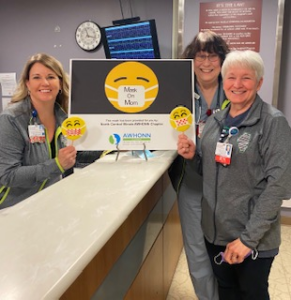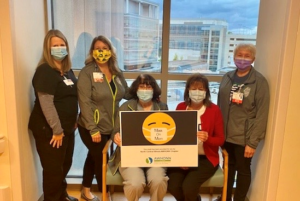 On May 11, 2020,  the North Central Illinois AWHONN Chapter co-coordinators, Mary Ann Liner and Susie Swain, and Chapter member and AWHONN IL Secretary/Treasurer, Mary Wheeler, presented 100 reusable cloth face masks to the Family Birthing Center at OSF HealthCare at Saint Francis Medical Center in Peoria.  On hand to accept this donation was Cindy Martin, Director of Womens Services and Lisa Smith, Manager of Labor and Delivery. The aim of donation is to ensure that pregnant moms in Central Illinois have access to masks during this COVID-19 pandemic.
---